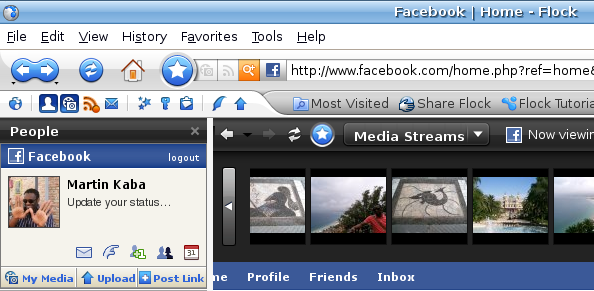 Windows/Mac/Linux: Flock Social Web Browser loads versions 2.5 with more support for social networks like Facebook, Twitter, MySpace, Flickr, YouTube etc. Flock, based on Mozilla, is a social media inclined browser – – the ideal browser for Facebook and Twitter users.
– Flock 2.5 is based on Firefox 3 and includes Mozilla Firefox's 3.0.10 security patch.
New features in 2.5 include;
* Facebook Chat has been integrated as an Instant Messaging service. Facebook Chat User Guide
* Twitter features in the People Sidebar have undergone a complete overhaul, and now allow for several new options. People Sidebar User Guide
* Twitter Live Results have been added to the search chrome.
* Twitter Search widget has been added to MyWorld. Twitter Search User Guide
* FlockCast has been integrated as a new feature in Facebook, allowing you to easily broadcast your actions from around the web directly onto your Facebook page. FlockCast User Guide
* Bebo has been integrated as a People service.