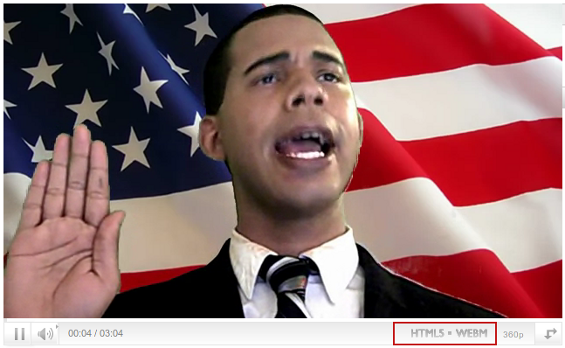 Yesterday the WebM open web media project was announced at Google I/O. Opera, Chromium and Firefox already have builds that support WebM. Over 1.2 million YouTube video clips are already available in WebM, and Google has announced it will sooner transcode all YouTube video to WebM. To test/play YouTube WebM video clips in Firefox, download Firefox WebM builds available for Mac, Windows and Linux platforms. Launch the newly installed Firefox nightly, go to www.youtube.com/html5 and join the HTML5 beta experiment, you need a Google account to enroll.
Now search for a video by keyword, for example obama, add &webm=1 to the end of the URL in Firefox's address bar. Click on any of the list of video that appear. Not all searches will provide WebM powered video, HTML5 webm will be displayed in the toolbar of WebM powered video.
Do the same with other browsers that supports WebM – Opera and Chromium for now.
The latest daily build of Chromium Ubuntu now includes the WebM codec. Ubuntu users can give it a try via Chromium Daily PPA. (thanks Fabien Tassin). Keep an eye on Playing WebM Video for how tos and updates