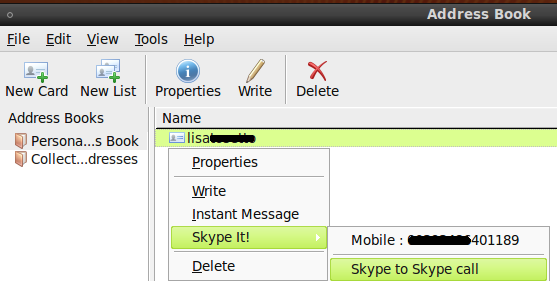 Linux/Windows: Whilst Skype 4.0 for Windows has support for Outlook contact importing, Skype 2.0 for Linux (poor thing) has no such support, neither for Evolution nor for Thunderbird.
SkypeIt, will not import your Thunderbird contacts, but at least you can make a Skype-to-Skype call directly from your Thunderbird Address Book.
All you need to do is install the SkypeIt extension, then move to Tools -> Add-ons -> SkypeIt Preferences: In the SkypeID field, choose in what column you want to place your Skype IDs – – by default it's the "Nickname" column.
To call a contact in the Thunderbird address book, right-click on the contact, Skype It menu; place the call via one of the contacts phone numbers or make a "Skype to Skype call" via the contacts Skype ID.