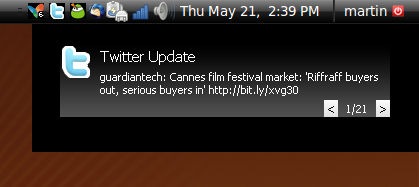 Digsby, Lifehacker's Hive Five Winner for Best System Tray Application, is a Windows-only (for now) application that bundles-up instant messaging IM, email notifications and Social Network into a simple desktop/system tray notifier or chat application.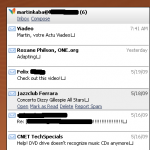 – For IM it puts together; AIM, MSN, Yahoo, ICQ, Google Talk, Jabber, and Facebook Chat Accounts.
– For email, it handles your Hotmail, Gmail, Yahoo Mail, AOL/AIM Mail, IMAP, and POP accounts.
– For social networking it brings live updates from your Facebook, Twitter, MySpace and LinkedIn accounts.
The only way to play with Digsby in Linux is using Wine. The installation is easy and straight-forward, just "Decline" all the extras it comes with.
Authors Note: Digsby on Wine gets does just what it's meant to do. It has good looks, as in Windows, but not the feel. It tucks and docks well, added to the growl-like pop-up notifier (new feature in Ubuntu 9.04) makes Digsby worth a try on your Linux Ubuntu box.
Download Digsby Download Digsby Portable
via [Lifehacker]