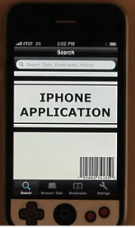 Rather than trying to create a carbon copy of the Firefox browser on the iPhone and really hope it gets accepted in the App Store, (being third-party browser that isn't based on Apple's Webkit browser platform), Mozilla is building an application for the iPhone, based on Firefox Sync (formerly Weave Sync) technology.
Firefox Home, the new app, will give iPhone users access to their Firefox browsing history, bookmarks and the set of tabs from their most recent browser session. Firefox Home also incorporates Firefox's "Awesome Bar" and its capability to remember your previous and automatically saved searches.
Firefox Home is part of a broader effort from Mozilla to provide a more personal Web experience with more user control, for devices or platforms where its possible to provide the "full" Firefox browser. Firefox Home is not yet available in the Apple App Store, it still has to be polished and submitted. For information at the projects wiki page.