The flexibility of GNU/Linux is nothing new, the suppleness of the Kernel is a fact known especially to Linux geeks, and to who reads this blog often. Imagine that you can unleash the power of your Xbox and/or PlayStation 3 by installing Ubuntu GNU/Linux.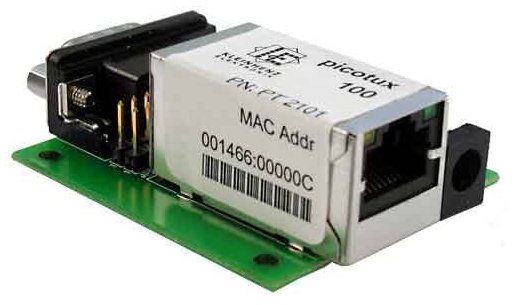 Take a breath a now and Imagine that you can put a Linux Kernel in a 3cm device. Incredible!!! It is called PICOTUX. Its manufacturer calls it " the smallest Linux computer in world" and judging from the Lilliputian size – 35mm x 19mm x 9mm, its seems the slogan is very true.
The 'calculator' is equipped with a 32-bit ARM 7 Netsilicon NS7520 processor , 55 Mhz Processor Clock, and hosts a 2 MB of Flash memory, 8 MB SDRAM of RAM. It has a serial port and a 10/100 Mbit, HD and FD, auto sensing Ethernet network card.
The Operative System used to operate the hardware is uClinux 2.4.27 Big Endian. With respect to applications, besides the shell, BusyBox 1.0, is also present a Web Server and a Telnet service. For the Filesystem Picotux 100 uses CRAMFS, JFFS2 and NFS(Network File System). Even the Development System has a lot to offer; GCC 3.4.4 for C/C++ and Fortran compiler, Binutils 2.15 and uClibc 0.9.26 Libraries.