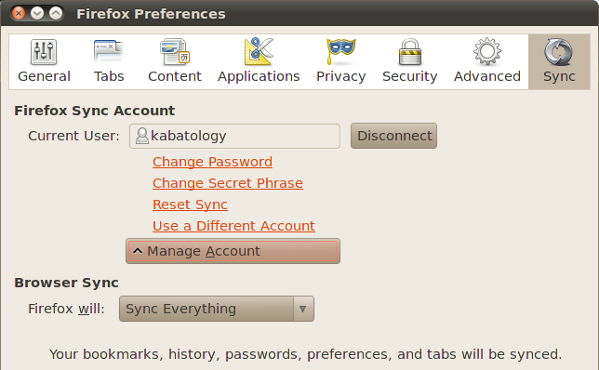 Firefox Sync (formerly known as Weave Sync) that will sooner become a feature of Firefox, in an upcoming major release, is officially out of Mozilla Labs. You can now download Firefox Sync v1.3 add-on at Mozilla Add-ons. In Mozilla rebrands Weave Sync as Firefox Sync I mentioned some of the features included in the then Firefox Sync 1.3b5 such as the rebranding of Weave Sync as Firefox Sync, a completely new and intuitive graphical user interface (a simpler sign-up and setup process), an improved sync-response-time.
Other features included in this out-of labs-release include, the availability in more than 15 languages (German, French, Spanish, Italian, and Chinese etc), a single button to access all your remote tabs.
Update 1: It's worth mentioning that, you can access your remote tabs by typing in about:sync-tabs and no longer about:weave-tabs in your URL bar.
Download Firefox Sync 1.3 for all platforms (Windows, Mac and Linux operating systems) with Firefox 3.5 and higher, and Firefox-tested smartphone. See complete changelog.