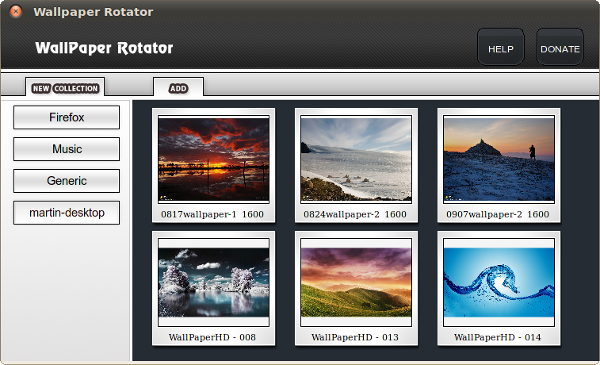 They are many wallpaper switchers out there and several have been presented on this blog, such as Wally, my preferred desktop wallpaper rotator for Ubuntu but what makes this one particular is that its a nifty Firefox extension, an easy to configure "no-install" that lets you change your desktop wallpaper periodically.
When installed Firefox Wallpaper Rotator your desktop will begin to receive new wallpapers from WallpaperRotator.com the community site which is devoted to serve wallpapers uploaded by the add-on users. Firefox Wallpaper Rotator also places a tiny icon at the bottom right of your screen, on the Firefox statusbar, right click on it then choose 'Install more Wallpapers' menu option to get more community served wallpapers from wallpaperrotator.com. Wallpapers are re-grouped by screen resolutions, from common 800×600 to 1920×1200 wide screens. You can preview wallpapers before installing them into an appropriate collection. To use this service you have to create an account, the service also lets you share your wallpapers with other Firefox user.
What is nifty about this extension is that if you've got a your own wallpapers somewhere on your hard disk, you can use them too. Right-click on the Wallpaper Rotator icon and this time choose 'Wallpaper Rotator' menu option. In the 'Wallpaper Rotator' window, select the collection into which you want to add your own backgrounds, or create a 'New Collection' like idid (see screenshot above, I named mine martin-desktop). With the new collection selected 'Add' your local backgrounds. Now right-click on one of the locally added wallpapers, hit 'View' to load your personal wallpaper collection. Hit 'Share' if you want share the wallpaper with the community. I ended up deleting all the default collections

To set the rotation interval – right-click on the Firefox Wallpaper Rotator icon and choose 'Set Interval'.
Firefox Wallpaper Rotator is a free download for Windows, Mac and Linux. It should work wherever the is a Firefox. On my Lucid, idid not have to use administrative privileges to flip wallpapers.