Ndomche Summary Theme is a CSS styling theme that is built on WordPress 2.5 that you can style to your taste. If you have not yet upgraded to WordPress 2.5, you are advised to do so before using this theme.
– With this theme your Gravatars would show up without any further customization.
– This grid-based theme is consider the need to have non-obstructive ads on your blog and seeks to ease navigation.

– Ndomche Summary theme was designed by Martin Kaba, author of Kabatology – It is released under the GNU/GPL license..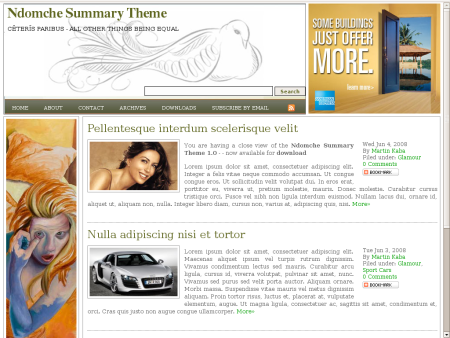 Browser Compatibility
This theme has been tested and found compatible with the most used browsers on the web.
Windows: Internet Explorer 5.5, 6 and 7; Mozilla Firefox 2, 3; FlashPeak Slim Browser 4.0
Opera Browser 9.xx
Linux Ubuntu: Mozilla Firefox 2,3; Opera Web Browser 9.27;
Live Demo
Download
Installation
1. Download and unzip the ndomche file
2. Load the ndomche folder into your "/wp-content/themes/" folder
3. Login into your WordPress – Dashboard
4. Go to the Design tab
5. Select the Ndomche Screenshot
6. Now customize to your taste
– I cordially ask you to give credit to the author by leaving the link at the footer untouched.