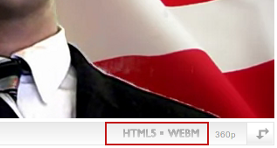 Mozilla developers have pushed WebM, VP8 codec into Firefox 4, the next major Firefox update. Up till now Google's open source VP8 codec was present only in a special Firefox development build that you can still download here at Firefox WebM Builds.
To test Firefox 4 pre-release with in-built WebM, download it here and follow instructions on how to play WebM powered YouTube video clips. Firefox 4 nightly builds are available for Mac, Linux and Windows operating systems. Windows users are advised to download Firefox-3.7a5pre standalone, no-install (the zipped pack) that doesn't compromise your stable 3.6.x.
Google recently rejiggered the license on its open-source VP8 video codec after complaints that it wasn't really "open".