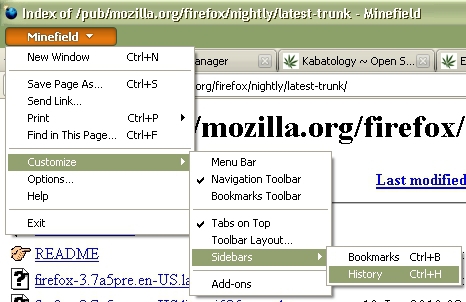 Firefox 3.7 alpha 6, the sixth developer preview of the Gecko 1.9.3 layout engine has been released with several new features since the previous developer preview, Firefox 3.7 alpha 5 that introduced support for the HTML5 audio and video codec WebM, and enabled Aero Glass for Windows Vista and Windows 7.
If you've never had the chance to test Google's WebM, you can begin with the fairly stable Firefox 3.7 alpha 6. 64 bit builds are also available for Mac and Linux, but these do not have support for 32 bit plugins and are considered highly experimental.
Firefox 3.7 nightlies also use hardware acceleration for Windows (DX9) and Macs (OpenGL), when viewing HTML5 video in full screen. You can confclassently test them here by resizing the photos in your browser. Minefield also supports a Mozilla-specific CSS selector: -moz-any, Lazy Frame Construction (improves the performance of complex pages that add large numbers of elements to a page), FormData interface and improved JavaScript performance.
Windows users, not only Vista and Windows 7, but Windows XP will notice some changes in the interface; You can get the big orange Opera-style menu button "Minefield" by hclassing the "Menu Bar" (View -> Toolbars ->untick Menu Bar). You can send "Tabs on Top" and even move the Navigation toolbar to the Tabbar.
The Linux build lacks the "Minefield" button (that will later become "Firefox" in beta), and the general design is still very poor.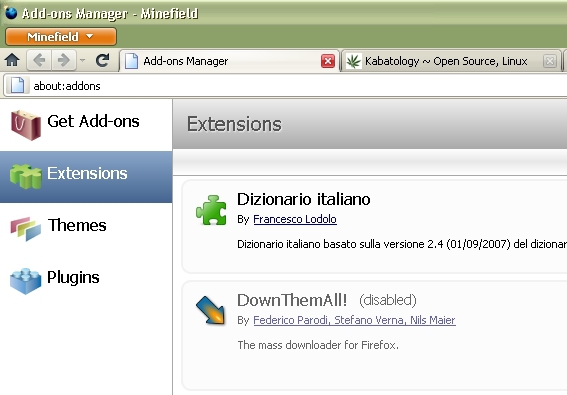 about:addons opens in a new tab and not in the previous add-ons window. Updated about:memory page that displays memory consumption will be improved in later updates.
Minefield with out-of-process plug-in protection, "Lorentz", is still not that recommendable, at least to less technical users. Many add-ons are not compatible and Nightly Tester Tools that can force add-ons to be compatible might render the browser less-stable and more prone to data loss.