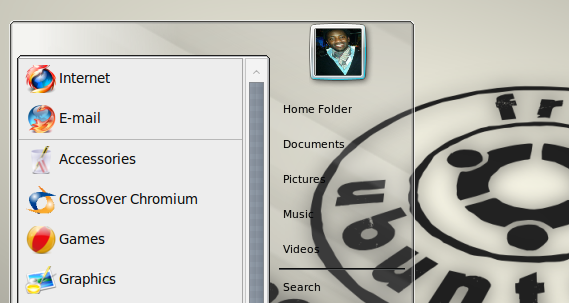 [Click to Enlarge]
Wallpaper switchers, new themes, GDMs and GnoMenu all have one purpose – they bring fresh and new looks to our Gnome Desktops.
GnoMenu is a highly customizable, theme-driven Applications Menu for your Gnome desktop. The XML theme engine supports very attractive themes with transparency, even on non composited desktops.
Just as you can adjust the number of items in the "Recent items list" you can also resize theme icons. By default GnoMenu catches the keyboard Super L Windows key. It uses for local file and directory search the Gnome "Tracker Search Tool", if you have it installed (sudo apt-get install tracker-search-tool).
After installing GnoMenu, add-it to one of your panels. Right-click on the panel of your choice, Add to Panel -> GnoMenu -> Add. GnoMenu's behaviour also depends on which panel you place it on. A right-click on the GnoMenu icon opens up a menu, with GnoMenu "Preferences" and "Edit Menus" items. Click on "Preferences" to get to GnoMenu settings where you can install/uninstall themes and modify built-in commands.
Downsides:
GnoMenu needs the following dependencies; python | python-xdg | python-cairo | python-gconf python-xlib | deskbar-applet – – for a full and correct functioning.
– I ended up installing only the "desktop-applet", the others were already present on my Ubuntu 9.04 system.
Many of the themes bundled up in GnoMenu make it look like the Windows XP and Vista menu and I'm damn sure you're allergic to Windows look-alikes. No big deal, in-built Avio theme and a few others do it differently. (A point of correction: Maybe it's better to say GnoMenu's in-built themes are more like the KDE Applications Menu than XP or Vista )
If you've found other non window-like themes, let us know. If you've built or modified one for the community, better still. In the mean time you can download other themes like the Ghost theme from Gnome-Look.org
[Screenshot below: Transparent Black and White Ghost theme]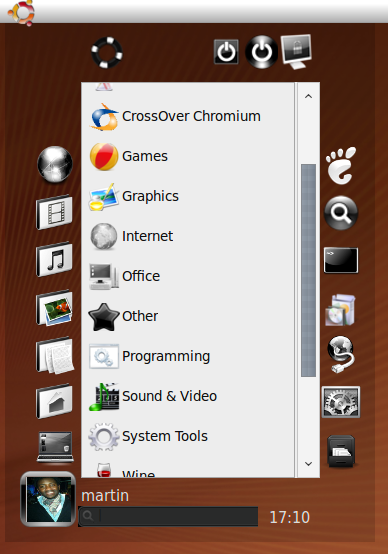 Python built GnoMenu is released under the GNU/GPL License.
Download GnoMenu – – Ubuntu: for easy install, get the deb package
[Update 1 ] Shaun Marolf of the GnoMenu project says the GnoMenu was originally conceived to emulate Windows Menu systems, that's the reason why it has many Windows looking skins. But right now with code enhancements, it emulates even the KDE's kickoff menu. Whilst waiting for feature-packed GnoMenu 2.0, he also suggests the unique (one of its kind) Tux Menu theme
[Update 2 ] GnoMenu Now Available in Launchpad Repositories. Its now easy to install.