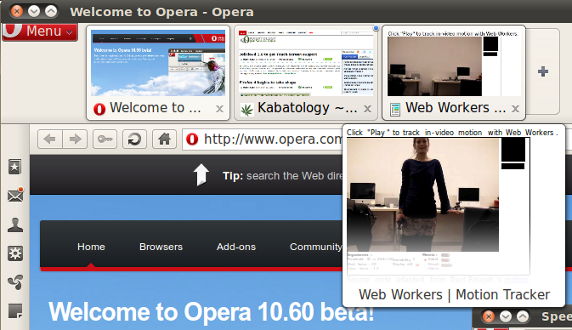 Opera 10.50 will soon be part of the past as Opera Software has quickly rejiggered it into Opera 10.60. Linux desktopsdid not get a stable Opera 10.50 final, but this will not be the case with Opera 10.60, as Opera Software promises to deliver Opera 10.60 (final) versions for Windows, Mac and Linux at the same time. Grab your beta now.
Interface-wise, much of Opera 10.50 is present in 10.60, with some additions, such as – more search suggestions such as Wikipedia have been added, a more visible Opera menu button, Tabs get custom thumbnails, web search in the address field.
Added to speed gains, Opera 10.60 has better HTML5 compliance. The new Opera supports geolocation, an HTML feature that lets a browser tell a web site the user's physical location. It also includes support for nascent HTML5 audio and video codec WebM, Web Workers, Offline Web Applications, App Cache, Cross-Document Messaging update.
Linux builds have improved KDE and Gnome skinning, read the full changelog for Opera 10.60 here.