OpenDNS has launched an easy to setup service called FamilyShield that allows parents, administrators, users to filter web content and keep their computers free from adult web sites. This free service that needs no account to configure, no downloads or software to install works much like how OpenDNS Basic does.
You can setup FamilyShield's IPs 208.67.222.123, 208.67.220.123 directly on your computer (Mac, Linux and Windows) or mobile phones and start filtering the web, better still, you can configure your router to use FamilyShield's IPs and protect every device that shares that Internet connection, so users with Xbox, Wii, DS, iPad/iPhone and other smartphones also get protected.
Configure your router to use FamilyShield (Recommended)
First choose your router's brand Here and a follow the straightforward instructions. If your router is not amongst those mentioned then follow the general router instructions. If you can't get to configure your router then configure your computer.
Configure your computer to use FamilyShield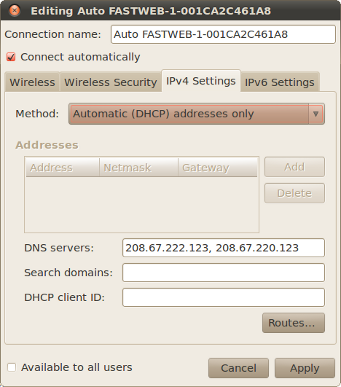 Instructions are available Here. Covered OS include Windows(XP, Vista, Windows 7) , Mac
(OS X Leopard, OS X Tiger, OS 9), Unix/Linux (SUSE, Ubuntu) and Wii.
FamilyShield web filter, powered by OpenDNS is constantly updated, 24hrs a day, it comes with built-in security that "automatically blocks phishing and virus-spreading malware websites.
via [OpenDNS Blog]