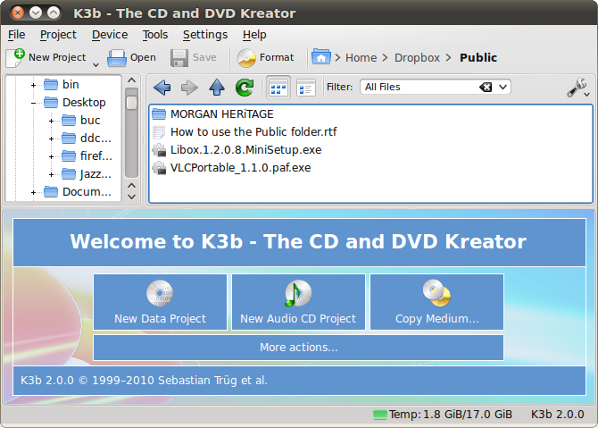 The K3b team is proud to announce the release of version 2.0 of their popular open source CD and DVD authoring tool, K3b. Its a fully-featured CD/DVD burner that supports common tasks like burning audio CDs, disc images, data discs, disc copying and can rip your DVDs to your hard drive in the DivX or Xvclass formats.
Code named "Komeback", K3b 2.0 stable (final) has been available (for a while now) to the general public as a pre-release. It has been ported to the current KDE 4 platform but on the skin nothing has really changed, though it has gained modern widgets, and it takes advantage of Dolphin's breadcrumb bar. Dolphin is the default file manager in KDE 4.
K3b 2.0 features support for DVD and Blu-ray writing via cdrecord, RTL languages and support for files bigger than 4GB (via mkisofs 2.01.01a32 and above). With over 250 bugs fixes during the pre-release period, the team hopes to have archived maximum stability in this release.
Other features in Komeback include;
Always allow manual writing speed selection
Use proper toolbars instead of the toolboxes -> nicer laying out with different styles
Merged CD and DVD copy dialogs
Merged CD and DVD image burning dialogs
Merged CD-RW erasing and DVD formatting dialogs
Merged Data CD and Data DVD projects into one plain data project with Blu-ray support
Merged eMovix CD and eMovix DVD projects
Removed CD copy option "prefer CD-Text". K3b will now ask indivclassually (there is no need to do this if no mounting is involved)
Allow importing of arbitrary sessions into a data project, thus continuing other than the last session
"Clear project" now only clears the added data but leaves the settings as they were (bug 147838)
New audio ripping pattern %e which is replaced by the file extension
K3b alias Burn Baby Burn is a free download for Linux desktops. The last stable release, version 1.05 was out in May 27, 2008.
You can install it on your Ubuntu Lucid by via the Software Center. If you get this notice "MP3 Audio Decoder plugin not found",

then close K3b, install libk3b6-extracodecs – sudo apt-get install libk3b6-extracodecs and relaunch K3b.