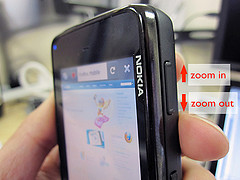 Firefox for Maemo 1.1 is now available to download for Maemo devices (Nokia N900, N810). Users of Maemo devices with Firefox Mobile, Fennec installed will shortly receive updates.
I have been following the development Firefox Mobile 1.1 from its early stages right up to the release candidate and final release and can say that Firefox mobile is getting more and more closer to the desktop version given the already excellent base v1.1 is built on. Version 1.0 introduced add-ons, such as AdBlock Plus, Firefox Sync and version 1.1 adds stuff such as built-in Crash Reporter, automatically updated add-ons, redesigned start page, improved Site Menu – all for better browsing.
Firefox for Maemo 1.1 also features support for Portrait mode upon rotate, also known as Portrait Browsing that is the browser switches orientations automatically as you reposition the phone.
Fennec 2.0 is going to introduce out-of-process web content (Project Electrolysis) and accelerated rendering (Project Layers). Electrolysis has already been used in Firefox 3.6.4 to protect against plug-in crashes
Nokia Maemo users can download it from Firefox for Maemo download page.