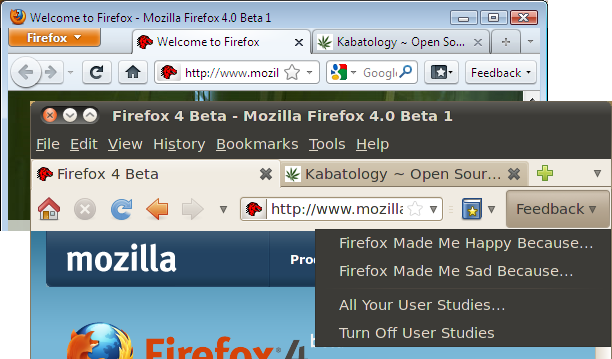 Mozilla has finally released the first beta for Firefox 4, you can now download and test this beta release, the very first of a series of betas that bring many improvements to the popular brown browser. As already reported, Firefox 4 that will be officially released at the end of the year is a major update, much of the Firefox of this browser depends on this release.
Some of the new features and the redesigned user interface have been presented here at kabatology, you should have seen them elsewhere too. Talking about the redesigned interface, Firefox beta for Linux and Firefox beta for Windows are slightly different on the surface. The Linux build as shown on the screenshot above doesn't yet have the Opera-style menu button that reads 'Firefox'. You can bring it up by hclassing the Menu Bar; View -> Toolbars ->untick Menu Bar.
On both Windows and Linux you can can send "Tabs on Top" and even move the Navigation toolbar to the Tabbar.
Mozilla is particular interested in knowing what you thing of what is supposed to be their best browser so far, so they placed that big 'Feedback' button on the top right of the browser so you can tell them whats in Firefox 4 that makes you happy or sad.
What you (Firefox user) certainly expected in Firefox 4 is that it includes uninterrupted browsing, the Crash Protection technology (OOPP) now present in Firefox 3.6.6, native support for Google's open WebM format for watching "hardware-accelerated, super-smooth, HD-quality HTML5 video on YouTube".
Other features you should be testing in this beta include; new Add-Ons Manager (about:addons) that opens in a tab and not a window, it will soon be coming to Thunderbird email client. Do you expect a major release without performance improvements? Nay. This version also focuses "on improving responsiveness at start-up and during page loads".
Web Developers aren't left out; HTML5 Parser, WebSockets, IndexedDB, Web Console (experimental "Heads Up Display") and Simpler Add-On Development via Jetpack are some of the goodies packed in Firefox 4 for you. Don't forget to check-out the full list of Web technologies supported by Firefox 4 beta.
Mozilla via its blog reports that not all of what you find in this beta and in future betas (cause more is still to) is guaranteed to be in Firefox 4. If you want to join the testing community then download the very first beta at Mozilla.com. You can find more information on this release in the Release Notes. What do you think of the new features? Let us know in the comments.
via [Mozilla Blog]