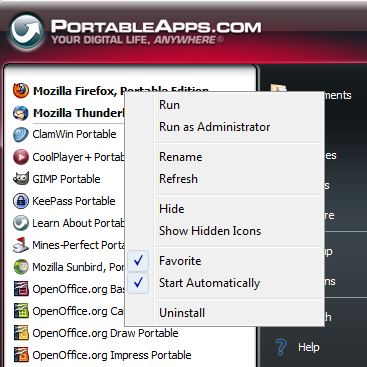 The full-featured PortableApps.com Suite that runs from a USB pen drive on any Windows system is now at version 2.0 Beta 1. The newly upgraded platform comes with tons of features like theme switching; seven different theme colors available and the possibility to customize or load other themes in the PATheme format.
In PortableApp Suite 2.0, automatic starting of applications -- Autorun becomes a major feature. Apps can now automatically run when the menu loads.
Besides that, PortableApp Suite 2.0's has a richer Right-Click Menu.
You can Refresh, Hide, Display items on the menu list or completely uninstall apps via the right-click menu.
PortableApp Suite 2.0's entire menu will now properly display all of your Apps icon on Vista and Windows 7 system as it now support the 120dpi icon resolutions used in both systems.
Support for Wine too has been re-visited, PortableApp Platform 2.0 tries to avoid the ugly pink edges that appear when the menu loads.
Ready to pack-up your already vulnerable Firefox 3.5.1, KeePass etc, hold-on.

Other worth nothing improvements:
The Suite menu dropped-out early used bold fonts and now uses Font Switching: For Windows XP and earlier Windows systems, it uses the Tahoma font, whilst on Vista and Windows 7 it uses the Microsoft Licensed Segoe UI.
A new hot key has been adopted. WIN-ALT-SPACE hides and displays the PortableApps.com Platform.
The PortableApps.com suite, is open source and a free download.
So what killer apps make-up your PortableApp suite. Share it with us in the comments.