Windows/Mac/Linux: With the release of Thunderbird 3 Beta 3, Mozilla's desktop email client takes another step towards the final release of Thunderbird 3.
The Thunderbird 3 beta 3 is a bug-fixes packed release that focuses on testing the core functionality of Thunderbird 3's new features and platform changes.
These are the new features that require feedback from the community: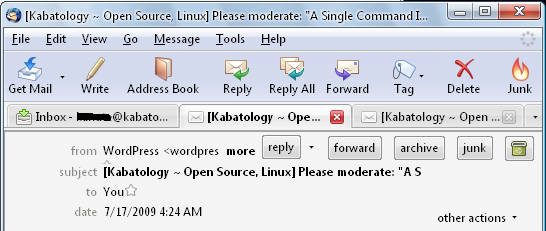 New Tabbed Email Improvements
New Message Summary
Improvements For Developers
Release notes for Thunderbird 3 Beta 3 are not available but you can find the changes made in Thunderbird 3 Beta 3 here: Thunderbird 3 Beta 3 (not yet) Released
Update: Release note are now available;
Other features that need feed-back;
Improved Gmail Integration ~ Better recognition and integration of Gmail's special folders such as Sent and Trash including non-English versions of Gmail.
Smart Folders ~ The folder pane offers a Smart Folders mode which combines special mailboxes from multiple accounts together.
Column Headings ~ The column headings that are displayed and the order in which they are displayed can now be set on a per-folder basis.
The Mozilla team is also at work to make a new "Mail Account Setup Wizard" that will make the configuration of new e-mail accounts easy and less error-prone.
One thing for sure, Thunderbird 3 is going to have tabs.
via [ Thunderbird 3 Beta 3 ]