For Windows/Mac/Linux: DownloadHelper, the Firefox extension that helps you capture video from websites by simply clicking the DownloadHelper animated icon gets a new exciting feature. This top firefox extensions gets an update from version 4.5 to version 4.6 and adds the capability to Tweet a Video Over to Twitter.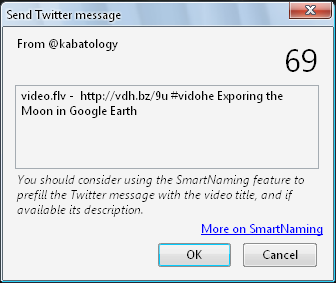 Twitter users can with a single click share with thousands of twitter contacts video from MySpace, Google video, DailyMotion, Porkolt, iFilm, DreamHost and others as DownloadHelper tool works well with these sites.
To uses this feature, you'll have go to Tools -> DownloadHelper -> Preferences -> Services tab ->Twitter tab and setup your Twitter account; it takes your Twitter Username and Password.
To tweet a video to Twitter, click on DownloadHelper's animated icon,
just like when you want to download a video, when the sub-menu attached to the video entry in the download menu pops up, hit 'Tweet this video'.
Other features and fixes in DownloadHelper 4.6
Added default Smart Naming database (importing the latest database from preferences, section Capture, tab Smart Naming is still a good idea)
Fixed compatibility of the Smart Naming feature with some menu redrawing extensions like CuteMenus.
Fixed Smart Naming feature for file names when the video title is too long.
DownloadHelper is a free download for Mac, Linux and Windows. It works on any system that has Firefox 1.5 up to Firefox 3.5 and Firefox 3.6a1pre.