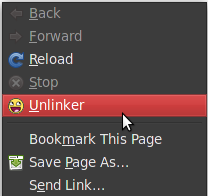 Unlinker Firefox add-on is a context menu extension, that provides a right-click solution to viewing thumbnails and linked images from within the webpage you're already on. So you don't have to move to another webpage to view the full image.
After installation, the Firefox add-on adds a "Unlicker" option to your Firefox right-click. Thats what you need to click to reveal full images.
You can also place the Unlinker icon on your Firefox toolbar.
Unfortunately Unlinker keeps the "Unlicker" option in the context menu even when it's not a linked image. It also get into trouble with thumbnails that link to big images. On Flickr and Google Image search no image display on the same webpage was possible.
Unlinker is a free download for Mac, Linux and Windows. It works on any system that has Firefox 1.5 to 3.5.