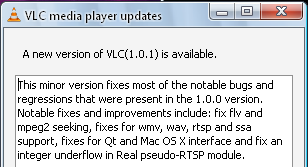 A minor update of VLC media player 1.0 is available for download. VLC 1.0.1 is out to fix a few bugs in record man VLC 1.0 Goldeneye that barely three weeks after it's release reached a stunning 14 million downloads.
Bug fixes were done on .flv (flash video) file format, mpeg2 generic coding of moving pictures, Windows and Mac OS X codecs updates.
Other fixes and improvements include:
fixes for wmv, wav, rtsp and ssa support,
fixes for Qt and Mac OS X interface,
fix an integer underflow in Real pseudo-RTSP module,
updates of some translations,
port of the ZVBI module to Windows for full teletext support and
Windows: If you don't have an update notice, go to Help -> Check for Updates…. Download, uninstall the prevoius and install VLC 1.0.1
In Ubuntu you certainly installed it this way: A Quick Upgrade to VLC 1.0 in Ubuntu 9.04 If youdid, then your system will automatically update VideoLAN media player. Mine has.