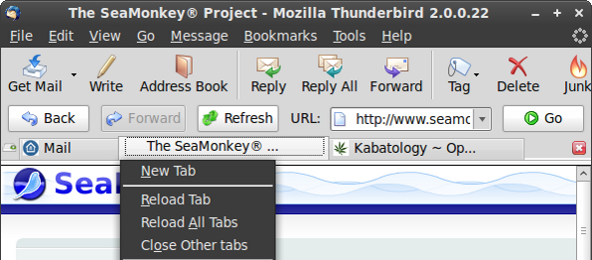 Linux/Windows: Whilst Mozilla is working hard to bring tabbed emails on an improved Thunderbird 3, amongst many other new features — tabbed emails are already present in pre-releases of Thunderbird 3, ThunderBrowse will add a new feature to Thunderbird 2 youdidn't miss, until now, when you read this.
ThunderBrowse is a Mozilla Thunderbird plug-in that integrates Web surfing directly into Mozilla's e-mail client by adding a simple URL bar to Thunderbird's email preview panel.
When you click on a link in an email it will open up in Thunderbird "browser" thus cutting down the time it takes to open a link from an email in your browser. Each link you click-on can open up on a new tab in Thunderbird if you configure it that way, so in some way ThunderBrowse also brings tabs to Thunderbird 2.
ThunderBrowse is also highly customizable. You might prefer opening up links in an alternate browser, no big deal, that can be done in the External Browser tab in ThunderBrowse Options. You can quickly open a new tab or window and scroll through the "browsers" history with Hot keys. A history-clearing button is found in the options menu.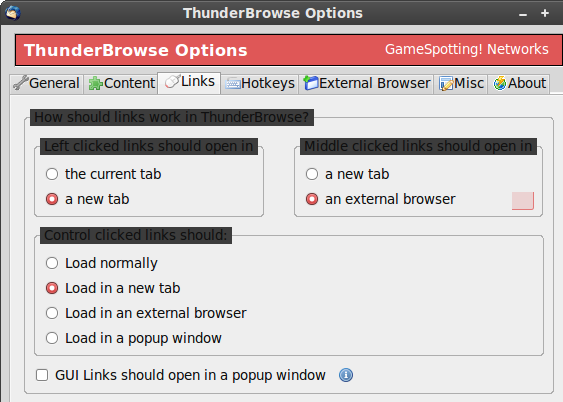 Though you can enable cookies, JavaScript, it remains a light "browser" but a great plug-in for Thunderbird.
It's behaviour in Ubuntu slightly differs from that in Windows.
How about combining ThunderBrowse tabbed browsing capabilities with tabbed emails in upcoming Thunderbird 3.