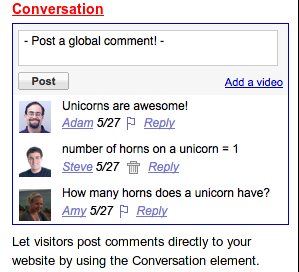 Google Services for Websites, a service that offers a bunch of powerful tools that help web hosters and access providers like you run more effective websites – just added three new tools to the suite;

Web Elements allows your customers to enhance their websites with the ease of cut-and-paste. Webmasters can provide maps, real-time news, calendars, presentations, spreadsheets and YouTube video on their sites. With the Conversation Element, websites can create more engagement with their communities. The Custom Search Element provides inline search over your own site (or others you specify) without having to write any code and various options to customize further.
Page Speed allows webmasters to measure the performance of their websites. Snappier websites help users find things faster; the recommendations from these latency tools allow hosters and webmasters to optimize website speed. These techniques can help hosters reduce resource use and optimize network bandwidth.
The Tips for Hosters page offers a set of tips for hosters for creating a richer website hosting platform. Hosters can improve the convenience and accessibility of tools, while at the same time saving platform costs and earning referral fees. Tips include the use of analytics tools such as Google Analytics to help webmasters understand their traffic and linguistic tools such as Google Translate to help websites reach a broader audience.
If you're new to blogging, Google Services for Websites is a must-have and free to use service pack. Therein, you'll find the best free web master tools the web can offer.