Thunderbrowse the Thunderbird add-on that transforms Thunderbird into a Web Browser with tabbed browsing – in the recent update from version 3.2.6.1 to version 3.2.6.2 fixes compatibility conflicts with Thunderbird 3 beta 3 and also adds support for Postbox, said to be a Thunderbird derivative
If you've got Thunderbrowse on Thunderbird 2 then go check for updates at Tools -> Add-ons -> Find Updates.
Now you can finally test Thunderbrowse on Thunderbird 3 beta 3.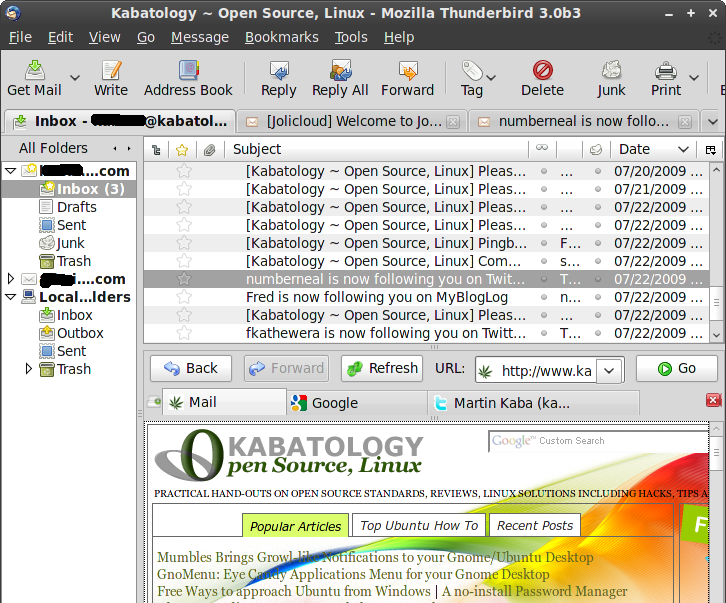 It takes just a few steps after the installation of Thunderbowse on Thunderbird 3 beta 3 to get tabbed browsing. Just follow the installation wizard. Through the options menu, configure links to open in new tabs so that the source email remains open in another. As shown on the screenshot above, each time you click on a link in an email, that link opens in a new Thunderbrowse tab and beneath that tab you'll find a URL bar brought to you by Thunderbrowse. But it also opens another tab below the URL bar even if the email has been open in a new tab. Too many tabs, it would have been better if email links open up in Thunderbird 3 tabs Thunderbrowse]
The recent update also renders Thunderbrowse more flexible, you can move the URL bar to the bottom of the pane, make use of the auto-complete feature and choose if to open links in an external browser.
Thunderbrowse is a free download for Linux, Windows and Mac. Its now compatible with Thunderbird 3 nightlies.