Unofficial community-made Google Chrome browser extensions keep pouring in. I just came across the Session Saver extension which brings session saving and managing to Google Chrome. The Chrome extension is said to work in Google Chrome 3 and Google Chrome 4 dev builds.
The developer twinsen says Session Saver extension version 0.15 is compatible to Chrome 3 dev version 3.0.197.11 and Chrome 4 dev version 4.0.201.1 and it has the following features;
Saves all tab urls for all chrome windows.
Saves multiple sessions with custom names.
Loads all urls from saved session to current window in new tabs.
Can view all urls to copy/paste from.
Can save tabs just for current window.
Can close saved tabs.
After installing the extension (you have to enable extensions with --enable-plugins), you'll find a "floppy disk icon" on the status bar on which you'll have to click to save your browsing sessions
All previously saved browsing sessions are displayed in a drop-down list in the Session Saver windows.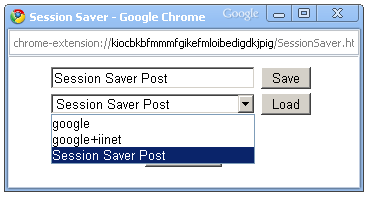 A click on the ShowUrls button brings up a Session Url Viewer window that displays a list of all saved sessions and their URLs
For better management of your Google Chrome extension, try the windows-only command line /graphical Google Chrome Extensions Manager