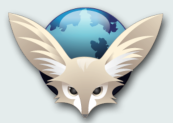 Mozilla has updated its mobile edition of the Firefox browser for smaller non-PC devices like mobile phone devices and PDAs.
Fennec 1.0 Beta 3 is available for the Linux based Maemo operating system that powers Nokia N800 and N810 Internet Tablets. The is also an alpha version for Windows Mobile. This beta 3.0 release focuses
on improving the user experience, bug fixes and performance.
The initial focus of Fennec development was on building a new user experience that reflects Firefox's design principles, adding touch screen support and other interactions appropriate for mobile phones and other handheld devices, while preserving leading features like the Smart URL Bar ("awesome bar") and support for add-ons.
You don't need to have a Nokia N810 to try it, just grab Fennec Maemo beta 3 desktop emulator for Windows, Mac OS X, and Linux. If you're looking for a light browser, then this is for you.

Fennec Maemo beta 3 Release Notes and Download