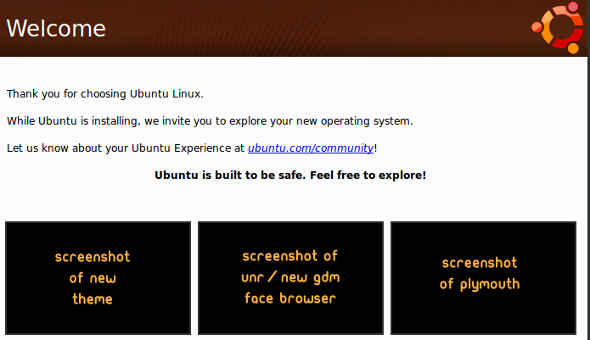 As preparations for the release of Ubuntu 9.10 Karmic Koala due October 2009 steam-up, more information pours out and it is now clear that Ubuntu 9.10 now at Alpha 4 will have a newly redesigned Ubuntu Installer also known as Ubiquity.
Ubiquity in Karmic Koala now has a "Quit" button that permits you to hang-up the installation process when ever you find it necessary.
The time zone in Koala's Ubiquity shows the region/zone only, and not the city.
But the major thing in Ubuntu 9.10's Ubiquity is the package called ubiquity-slideshow-ubuntu.
Ubuntu-flavoured slideshow for Ubiquity is a project for the construction and maintenance of a slideshow for Ubuntu's Ubiquity installer, which will introduce new users to the operating system.
The awesome slideshow will present the Ubuntu operating system during the installation process, the Microsoft XP way.
You can download and run ubiquity-slideshow-ubuntu-snapshot package to get a better feel of the slideshow presentation. The video below do the same, they present a mockup content for the Ubiquity slideshow.
The Slideshow talks of Firefox 3 -- a major Mozilla Firefox release, but Ubuntu 9.10 Karmic Koala has Firefox 3.5 as default browser.
Follow-up: Ubiquity Slideshow in simple text