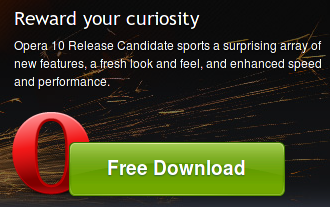 Opera 10 Release Candidate ships of today for all and for all major platform. The final release will be launched on September 1st, 2009 -- in barely 8 days time
Much of what has was said on Opera 10 beta is confirmed in Opera 10 RC like, Opera 10 being more than 40% faster than Opera 9.6, or the fresh look and feel, Improved e-mail client -- considered as one of Opera's most enduring and popular features.
Whilst waiting for the best browser in Opera's long history, grab and test for yourself Opera 10's supposed speed on resource intensive websites like Facebook and Gmail.
Opera Browser is a cross-platform free for download web browser.

Download Opera 10 Release Candidate