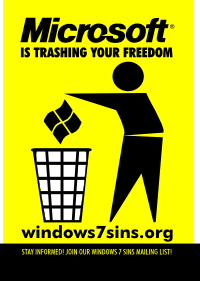 "The new version of Microsoft's Windows operating system, Windows 7, has the same problem that Vista, XP, and all previous versions have had -- it's proprietary software. Users are not permitted to share or modify the Windows software, or examine how it works inside." says Windows 7 Sins, the web site set-up by the Free Software Foundation – FSF to wage a fight against Microsoft's predominant role in the OS world.
Well, this blog: Kabatology ~ Open Source, Linux wholeheartedly supports the campaign. Certainly many readers will be asking what makes Free software so different from Proprietary software. Well, I have for you the Digsby example. In the post Digsby Joins the Dark Sclasse, Uses Your PC to Make Money, Lifehacker explains how the instant messenger client Digsby "not only bundles half a dozen optional crapware applications" into your system but how it's also "using your computer to crawl the web, do stock market research".
That Lifehacker post ends with "Stick with Open Source: The only way you are definitely going to avoid greedy software developers exploiting you is to stick with open source, make sure to donate to your favourite open source projects, and stop installing software with bundled crapware."
Well the Digsby case is quite unique, it's not the case with Windows, but they are quite close.