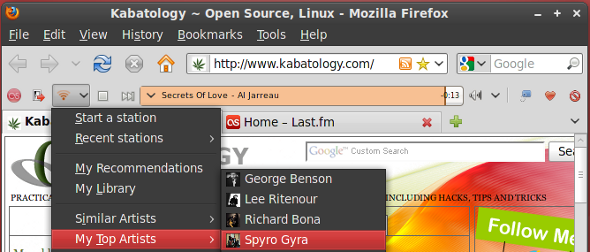 Fire.FM is a Firefox extension that adds an excellent Last.FM toolbar to Firefox. This Last.Fm toolbar makes it unnecessary to keep a Last.Fm streaming music web page open in the background whilst you get along with your affairs.
Last.Fm is an Internet radio service and music community website, that permits users to create custom web radio stations and playlist using audio tracks found in Last.Fm music gallery. Users can download tracks, if authorized, or listen to to their stream playlist or that of the artist of their choice their and similarities.
From this toolbar you can do just every thing you normallydid from the Last.FM web site. You can log in Last.FM directly from the toolbar, start a new station, modify your playlist, tag a track, "Love a track" and "Ban a track". From the toolbar you can also adjust the volume, skip tracks or stop your station.
You can set-up Fire.Fm to notify you each time a new track kicks off. Notifications will pop-up from the Firefox status bar. You can also let Fire.fm to auto-play when you restart your Firefox browser.
Last.FM fans that use Firefox 3 or higher as their default browser will find Fire.FM add-on very useful and time saving.
Fire.FM is a free download that works on every platform; Mac, Linux, Windows, PortableApps — provided it has Firefox 3 or higher.