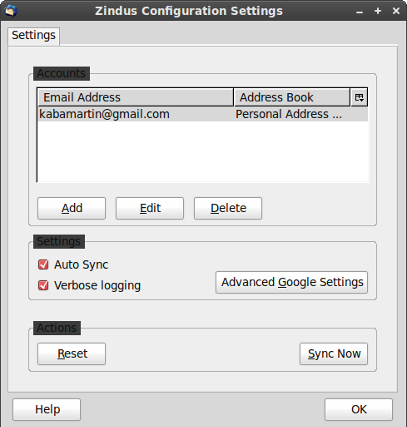 For all platforms that run Thunderbird: Zindus is an awesome Thunderbird extension syncs your Google contacts with Thunderbird's address book.
Zindus also syncs your contacts between Yahoo! Zimbra Desktop (a free and open-source email client) and Thunderbird's address book -- it syncs from Address Books to your GAL (Global Address List). Given that Zimbra puts together Yahoo! mail, Gmail and AOL, then syncing across Thunderbird and Zimbra via Zindus means bringing your Yahoo! mail, Gmail and AOL contacts into Thunderbird.
After downloading and installing Zindus, you'll find a small Zindus icon at the bottom of the main Thunderbird email client and a "Zindus" option on Thunderbird's Tools menu -- Click on it to open the Zindus Configuration Settings window.
To sync with Google Contacts, give Zindus your Gmail usersame and password. Hit the Add button, choose to sync with Google. Hit the Test Connection button if you want to make sure you're email address and password are correct. Then hit OK
Back to the Zindus configuration window, select the new account, and click Sync Now to begin the two-way syncing process that synchronizes names, email addresses, phone numbers and more whilst trying to handle any conflicts or eventual conflicts.
Zindus is Open Source, its cross-platform (Mac, Linux and Windows) and its a free download for Thunderbird 2.0 and Thunderbird 3.0b2. Update for Thunderbird 3.0b3 is on its way. Zindus also supports Google and Zimbra contact sync for Mozilla-derived mail client Spicebird.