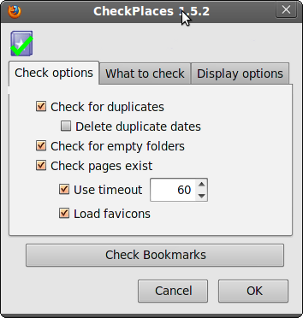 CheckPlaces is a Firefox 3 extension that cleans-up your Firefox bookmarks by checking and deleting duplicate bookmarks, empty folders and dead or failed(invalid) pages. It's very useful for those that have hundred of bookmarks and certainly find it hard to check the ever growing number of bookmarks.
After installation you'll find a "CheckPlaces" option on Firefox Bookmarks menu and a small icon on Firefox status bar. A click of one of these entries will open a CheckPlaces dialog box from where you can setup and run CheckPlaces. The latest version — 1.52 offers the possibility to "Exclude" Folders from the scanning process and the possibility to independently scan and load bookmark favicons. Scan intervals depend on the number of bookmarks you have and want it to scan.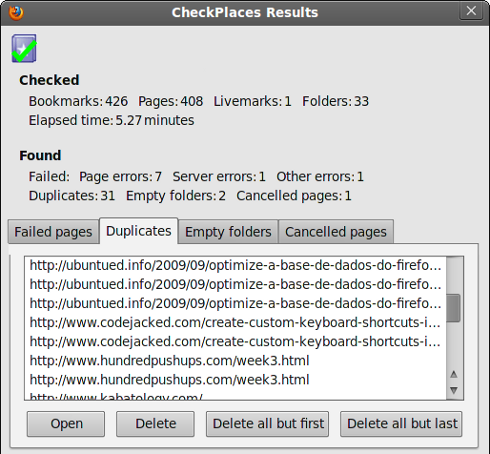 The results of the scan are provided in "CheckPlaces Results" interface that provides details such as the time it took to complete the scan, the number of scanned bookmarks and folders, as so on [See Screenshot above]. What you have to do now is todecide what bookmarks you want to delete under the "Failed Pages" "Duplicates" "Empty folders" and "Canceled pages" tabs. You can be open and check the validity of each Firefox bookmark indivclassually before decclassing to delete or not.
The author of the Firefox plug-in says its quite common and normal that CheckPlaces hangs when trying to access some 'bad' web servers. When that happens, click the "Cancel" button and under "Canceled pages" tabs in "CheckPlaces Results" windows you can manually check if those non-checked bookmarks are valid or not.
CheckPlaces is an experimental Firefox add-on for Firefox 3. Its a free download for Mac, Linux and Windows.