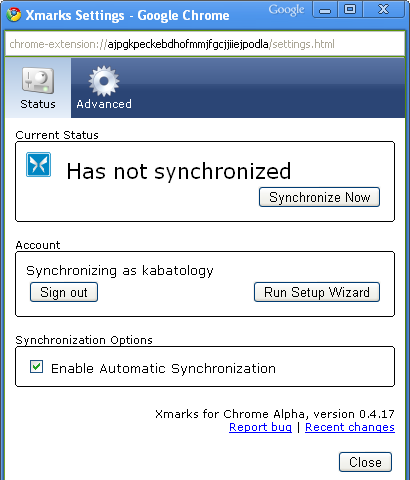 Google was the first to bring synchronization to Chrome development channel without any add-ons, with the switch --enable-sync, but Xmarks was the first to announce it syncs bookmarks with Chrome development channel though in closed alpha test.
Now I got an invitation to try Xmarks alpha for Chrome development channel 3.0.196.0 or greater. It all begins with enabling extensions by adding the -&#45enable-extensions flag to Google Chrome.
Given that both Chrome and Xmarks alpha are still under heavy development and therefore extremely unstable, its wise to back up all Chrome bookmarks before installing the alpha add-on.
If you have a Xmarks account, then sync all your bookmarks to the Xmarks server so if anything strange happens, you can always use the Xmarks restore feature to get everything back to where you started.
Xmarks alpha for Chrome also offers three types of login: "Login Only", "No Encryption" and "Encrypt All". These you'll find on the Xmarks Settings -> Advanced tab.
To get more information on the plugin-in, to see its log output go to chrome://extensions/ and click the "Inspect" button for Xmark's background.html view.
For an alpha, its not bad, it does what its supposed to do. The installation on Windows XP went smoothly though it hung at the first try. As for synchronization, itdid a good job without messing up my bookmarks. Xmarks for Google Chrome makes sense for across browser syncing.
More info: Xmarks for Chrome Wiki