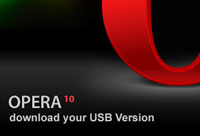 Opera 10 Final took many Firefox users by surprise for its speed and stability. Opera 10 browser together with Chrome 4.0 share the podium as fastest browser that the web can provide for download.
For a quick and clean test of Opera 10, lay your hands on Opera 10 Portable browser, a carbon-copy of the original, with the only difference of being a no-install. It will not interfere with other web browsers or with any version of the Opera browser installed on your system. [Portables and thumb-drives almost always go together.] If you then find it useful, load into your thumb-drive and carry it along with other portable apps.
Opera 10 Portable is an unofficial Windows-only application, that has English and German language versions.