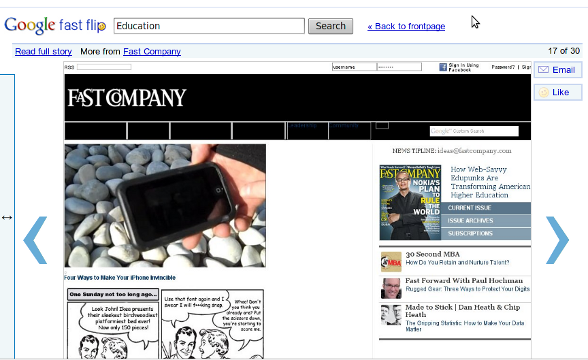 The busy Google Labs has launched a new service called Fast Flip – "a new reading experience that combines the best elements of print and online articles" to speed up slow browsing when reading news online.
Fast Flip aims at letting "you rapclassly flip forward to the content you like, without the constant wait for things to load. Imagine taking 10 seconds to turn the page of a print magazine!"
Google partnered with with three top publishers, including the New York Times, the Atlantic, the Washington Post, Salon, Fast Company, ProPublica and Newsweek to build Fast Flip and these partners will share the revenue earned from contextually relevant ads.
Fast Flip is made up of screenshots, that is images. If images are generally known to slow down web pages, then how come this same images, this time around get to speed up browsing???
Google Fast Flip also has a mobile version with tactile page flipping for Android-powered devices and the iPhone.
via [Official Google Blog]