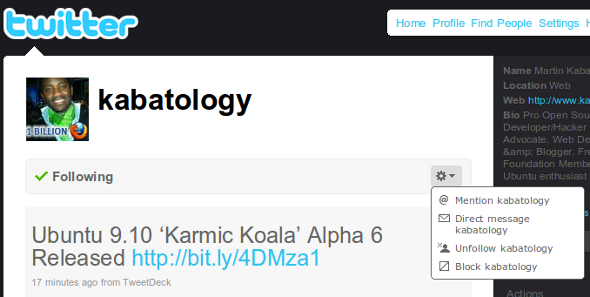 Twitter adds power to your web browser by rolling out new design tweaks to the web browser that are quickly noticeable when you go to a user's profile page. Formerly the 'Follow' button was the only option under the username, but now there is a newly designed follow button, and close to it there is a drop-down menu button that when clicked reveals the menu "@Mention", "Direct Message", "Unfollow", "Block". The "Direct Message" is present only when the Twitter user follows you back.
Added too the above, popular trending topics might also have a short explanation about why it is trending topic, as TechCrunch reports. When i tried that only the 'Jay-Z' search gave a short explanation. Unfortunately Kanye West is out of hot trends.
Lastly the default avatar for those users that do not personalize their avatars by uploading a proper profile image is now, guess what, a little Twitter Bird.
via [TechCrunch]