Three free, open-source applications that can render your bulky and cluttered Windows PC, smart again and free from malicious-ware. Two of these applications are portable, so you can use them directly from your flash drive on any Windows PC you come across. All three have been tested on Windows XP.
Simple Machine Protect (SMP)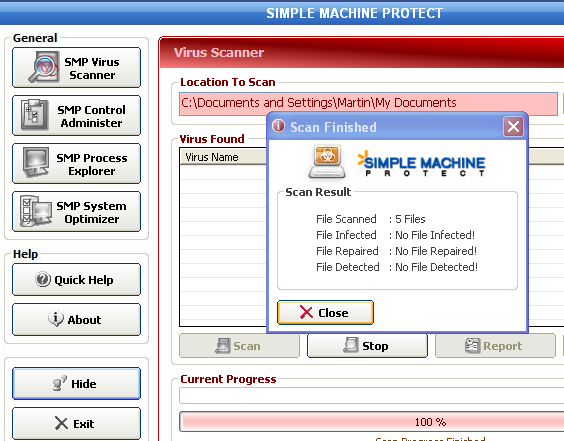 The SMP is a portable antivirus with a friendly and intuitive interface. This open source antivirus removes viruses, worms, trojans and spyware by scanning through all files on your PC or by scanning your chosen file extensions list. To choose a file extension list, click on the SMP Control Administer, and in the "Files Extensions to Scan" section choose "Use Extension List", from the drop down menu, select one of the extensions – – unfortunately you can select just one type of extension at every scan.
First thing to do with the Simple Machine Protect, is to go to the "SMP Control Administer" tab and modify a few options like; In the Windows Settings section and uncheck the "Always On Top" option, it is rather boring to have SMP always on top of the application.
In the Scan Options section, uncheck the "Warning Sound" option and check the "Fix Error Registry" option to optimize your registry. In the Reporting Service section, you can obtain a better report at the end of a scan by choosing "Complete Reporting Service"
Clicking on the SMP Process Explorer, you'll display all running process on your Windows Pc, you can abort each one of these processes with End Process. New Process opens the "Run" window from which you can start-up a new application.
In System Optimizer you can "Jump To", windows built-in maintenaince tools like Disk Defragment, System Config, Control Panel and more. Whilst in the Windows Optimizer section you can build-up that better Windows you always wanted.
Simple Machine Protect is free and released under the GNU/GPL license. Download Simple Machine Protect!!!
Disk Cleaner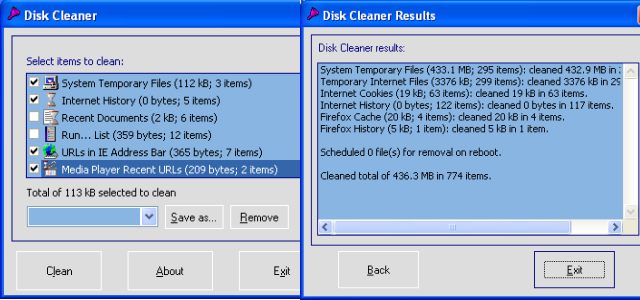 The name says it all ; yes Disk Cleaner frees your hard disk from key temporary files, but it also protects your privacy by hclassing the names of the files you used and the web sites you visited.
Disk Cleaner focuses on ease of use, small size and speed – its rather very fast when cleaning your system. It installs no .DLL files on your system, so it can run it from your flash drive. Disk Cleaner can automatically run at system start without any intervention.
It fully supports Internet Explorer, Firefox and Opera and easily cleans common tracks and built-in cookie managers. Unfortunately is has no schedule cleaning.
Disk Cleaner is free and released under the GNU/GPL license. Download Disk Cleaner!!!
JkDefragGui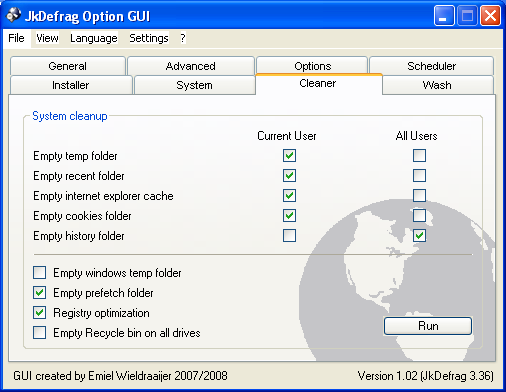 JkDefragGui is a simple open source disk defragmenting tool that better replaces the in-built windows defrag tool. It provides a graphical user interface(gui) to the open source command-line defrag tool – JkDefrag. JkDefrag has options to include/exclude directories and to schedule a defragmentation of your files.
JkDefragGui can also install the JkDefrag screensaver(like any other screensaver), that if installed and activated, automatically sets the defrag process rolling each time it kicks-off. Given that most Windows users aren't command-line pros, JkDefrag +Gui makes a difference.
JkDefragGui is free and released under the GNU/GPL license.