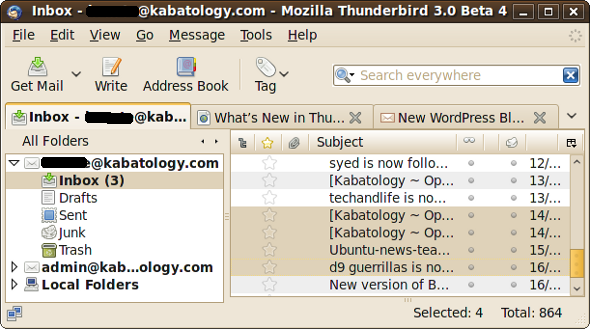 For Windows, Mac and Linux: The Mozilla Thunderbird team released today the fourth beta of its popular desktop email client Thunderbird 3. This new beta release is available for download for all major operating systems, Linux included and has supports for 42 different languages. The release notes of Thunderbird 3 beta 4 is a long run-down of improvements and confirmations. [Update:1] Thunderbird 3 Beta 4 is the last planned beta before Thunderbird 3 final.
To start with, smile because tabbed email messages are still present, you'll now find a new Mail Account Setup Wizard mentioned in Thunderbird 3 beta 3 (see Thunderbird:Autoconfiguration), Redesigned Mail Toolbar -- already present in beta 3, Smart Folders -- the folder pane offers a Smart Folders mode which combines special mailboxes, like Inbox, from multiple accounts. Smart Folders is now on by default., New Message Summary View--selecting multiple messages will give you a summary view of the emails you have selected (see screenshot above), Column Headings -- can now be set on a per-folder basis, Message Archive, Activity Manager, New Add-ons Manager, Improved Address Book, and Improved Gmail Integration -- Better recognition and integration of Gmail's special folders such as Sent and Trash including non-English versions of Gmail
[Update 2: Search results in newly released beta 4 are now filterable.]
Performance improvements have also been made on the way IMAP connections are handled: Thunderbird now downloads IMAP messages by default in the background to allow for faster message loading and better offline operation.
If you intend installing Thunderbird 3 beta 4 in your Ubuntu as your default email client, remember its still a beta with several bugs, but if you still want to try then quickly read through this: A Single Command Install of Thunderbird 3 beta 3 on Ubuntu
Thunderbird 3 Beta 4 Release Notes | Download Thunderbird 3 Beta 4