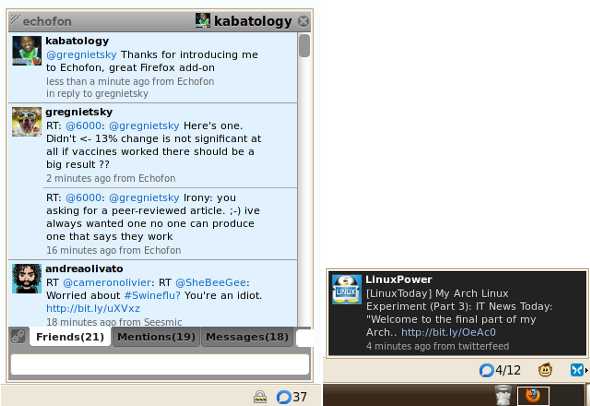 Why use another Twitter application when the Twitter teams keeps rolling out design tweaks for its web version? I no longer find it necessary to get a ""full fleshed" and often bulky Twitter application with all the new features the web browser version offers.
Twitter fans who use the web browsers for tweeting like Firefox can further boost up their Twitter experience with Greasemonkey and user-scripts (Opera users can try Emulate Greasemonkey Functions to boost Twitter). If Twitter for you means using a Twitter-focused application to update your status and view those of your Twitter friends (and not integrating MySpace, or updating to Facebook) then you can also pick-up an add-on, a Firefox extension called Echofon (formerly known as TwitterFox ) to bring some of those features you might miss in "full fleshed" Twitter clients like dedicated columns for tweets from "All Friends", "Replies" and "Direct messages".
When installed it puts a tiny icon on Firefox status bar that notifies you when your Twitter contacts post tweets, replies, mentions -- if the "Show pop-up" feature is activated.
-- You can easily update your Twitter status with a drag n' drop. Select the text and drop it into the Echofon interface.
-- All clicked links open-up in new tabs. Echofon also manages multiple Twitter accounts.
Default Keyboard shortcuts
-- Ctrl+Shift+L – a quick way to insert the URL of Firefox's current tab into the input message box.
-- Ctrl+Shift+I – Show/Hide Echofon window.
-- TAB – Jump from one Echofon tab to the other.
The right-click menu of Echofon status bar icon includes direct link to the extensions "Preferences" dialog window, "Logout/Sign-in", "Change account" -- for those with multiple Twitter accounts, "Mark all(tweets) as read", "Update tweets now" and "Show pop-up". A left-click on the Echofon status bar icon hides/shows the seamless Echofon interface.
Other worth mentioning features include;
Unread count in Firefox status bar
One-click access to Twitter popup window
Easily post links to current page in Firefox
Instant notification of new Tweets within Firefox
Echofon being a iPhone and Firefox app for Twitter can also sync your unread tweets with iPhone
Echofon (Formerly TwitterFox) is a free download for Firefox 3 and higher versions. It works on all platforms with Firefox.