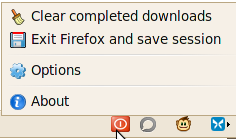 … you can as well sit down and wait for every download to be completed before turning-off your computer and walking-away. A download is capable of leaving your computer on for several hours even after the download has been completed — it would've been just great to download while your computer is turned off, that not being possible, you can at least make sure your computer shuts down at the end of the last active download to save energy and conserve batteries — if you're a Firefox user you can get that done.
Auto Shutdown is a highly customizable Firefox extension that monitors all your active Firefox downloads and shuts down your computer when all downloads are done. But it does not crash Firefox, it saves all current Firefox sessions before turning off the system. In Windows, you can set it to "Hibernate", "Standby" or "Forced Restart" after the last active download. These options are not present in Linux.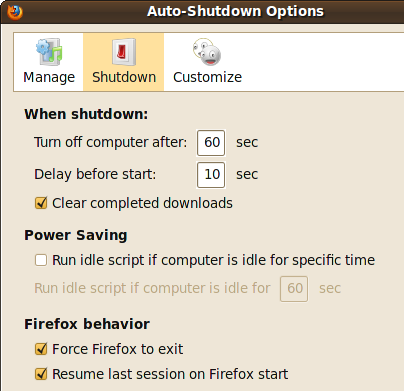 After installation it places a small icon on the Firefox status bar via this icon you can quickly access the "Auto Shutdown Options" dialog for further configuration, though the default setup is just OK.
Auto Shutdown works with both the built-in Firefox Download Manager and the popular DownThemAll Firefox extension.
Auto Shutdown is a Firefox extension developed by InBasic. It works on Firefox 3 and higher.
via [Mozilla Links]