Ubuntu/Kubuntu Linux: K3b, the popular open source full-featured CD, DVD, Blu-Ray burning and ripping application gathers momentum and heads towards version 2.0 after a year or so of no-growth. The last stable release, version 1.05 was out in late May 27, 2008. The good news is K3b 2.0 has been ported KDE 4 thanks to two developers from the Mandriva project.
Kubuntu users will find recently released K3b 1.66.0 alpha2 (uses KDE 4.3.1 ) as a pre-installed in Kubuntu 9.10 Beta. Ubuntu users, like me, who prefer K3b to Gnome's Brasero Disc Burner can easily install K3b 1.66.0 alpha2 in Ubuntu 9.10 "Karmic Koala"(see screenshots) using the Ubuntu Software Center:
Applications -> Ubuntu Software Center -> Get free Software -> Sound & Video -> K3b -> Install. Canonical will provide critical updates for K3b until April 2011.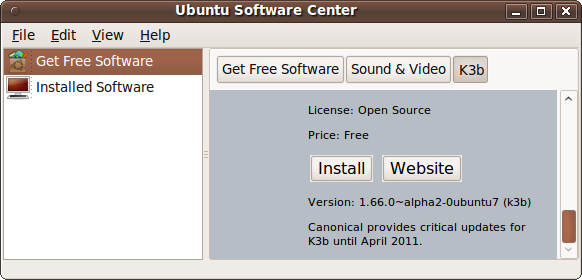 So if you're fan of this free application for KDE and Gnome desktops, don't bother compiling it, get Ubuntu 9.10 Beta or wait for the more stable Ubuntu 9.10 Release Candidate, that will be out on October 22nd.
"Better watch your back Nero Linux v4.0"…