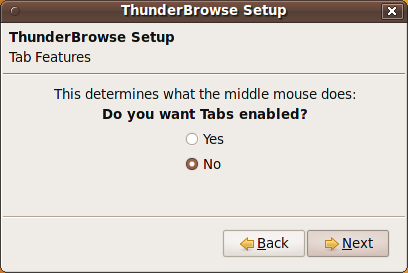 The ThunderBrowse extension was supposed to bring Tabbed browsing to Thunderbird 2 and 3, but it ended up bringing to many tabs to Thunderbird 3. One of the major new features in Thunderbird 3 is "Tabbed Email Messages", add to that "Thunderbrowse tab browsing" and you get a "virtual tab war".
The new Thunderbrowse beta add-on allows you to use the in-built tabs in Thunderbird 3, that is, when you click on a link in your email, that link opens a web page in a Thunderbird 3 tab, unlike before when email links open-up in a new ThunderBrowse tab.
So no more cumbersome tabs below the Thunderbrowse main toolbar ( contains the back, forward, refresh buttons and an address bar), when the email message is open in a new tab. (see screenshot of what is used to be.)
ThunderBrowse has a very expansive options menu. For further customization and how-to-use, drop into the URL bar;
tbit:options ~ To call the ThunderBrowse Options dialog.
about:commands ~ to see all the Hotkey commands, Mouse Clicks, and shortcut commands in ThunderBrowse.
tbit:faq to see the FAQ web page.
This version works with Thunderbird 3 beta 4. The author says he's working hard to make also work with Postbox. Being a beta, this version may have bugs, so use with care!