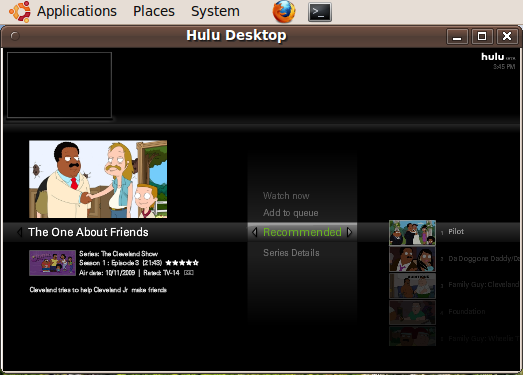 Hulu Labs has finally released a Linux version of their remote-controlled streaming video native client. Hulu Desktop for Linux looks like its Mac and Windows counterparts and provides support for infrared remote controls. Full-screen video on my Ubuntu 9.10 works well — for a beta its overall performance is great.
Hulu Desktop for Linux is a free download, its compatible with both Ubuntu and Fedora distributions. It is currently built on Fedora 11 and Ubuntu 9.04 but it also works smoothly on Ubuntu "Karmic Koala" 9.10.
Note: Hulu video are only available to users located in the United States. Europe, you're still in the dark ages so you get a dark screen and a sorry message.