Navigator 9 for Linux came out with some very interesting features that gives it a new shine. To start, there is no need for a formal installation, it can be executed from a terminal just like the ioswiftfox browser.
Navigator 9 URL correction attempts to automatically correct incorrect entries, like changing kabatologycom to kabatology.com or cmo into com.
Navigator 9 introduces a side bar feature called Link Pad, it is an alternative to bookmarks and it serves to save links you'll immediately want to revisit. Links can be saved with a simple drag and drop.
Another major feature is the Mini Browser that is integrated in the sidebar and displays a second website simultaneously with the display in the main window. Its like browsing through two websites simultaneously with a scalable frame that permits you to increase/reduce the size of the mini browser.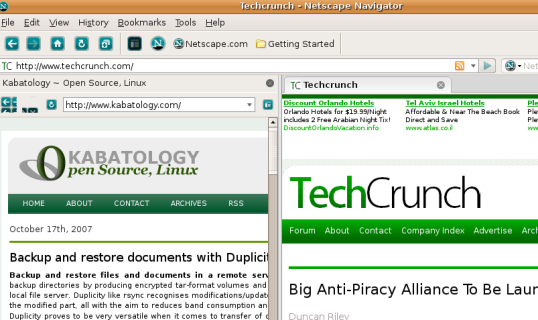 Navigator extends Firefox's Tab browsing feature and makes the tab inherits the history of the window pointing to the tab thus opening a link in a new tab will give the new tab the same history as the source tab for a more seamless tabbed browsing experience.
Get Netscape Navigator 9 for Linux
Update;
Netscape 9 for Linux is based on Mozilla technologies, this makes it compatible with most of the Mozilla add-ons. Themes or extensions that work with Firefox 2 also go with Netscape 9 for Linux.
You can beautify your Netscape browser with the beautiful themes that go with Firefox 2, even though some Netscape features like the mini-browser or Link Pad would not show-up (no icons). So customize your theme to Show both Text and Icons and the missing icons would be replaced by simple text.