Xvidcap; The most classic screen recorder for Linux, Ubuntu. Xvidcap records both video and audio. It uses the ffmeg tool for video recording while the audio is taken from the system's interface(need a working microphone).
Xvidcap is very easy to use. It records everything that occurs in that little red box. By clicking on lock button the red box can be unlocked, resized and repositioned anywhere you want.
To change the default settings right-click the movie-counter and choose Preferences. There you can change many default settings including the output format, say from MPEG4 to Flash.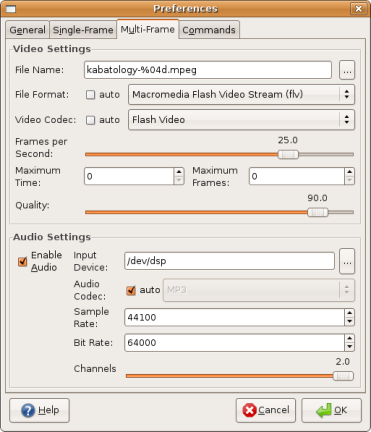 Xvidcap gets your job done even though you could find a few bugs and still needs some improvements. Contact the developer if you have good solutions to propose.
Xvidcap is available for download in Debian and Source code. It is released under the GNU General Public License
Another worth mentioning screen recording tool is the vnc2swf for ShockWave Flash (swf) format. The VNC server transfers the graphic content of an X-Windows session through a TCP/IP connection. vnc2swf is usually used in remote maintenance. Since vnc2swf is also capable of recording screen images that it compiles into the flash format, it can also be used for creating screen video.
vnc2swf has one advantage; it is platform independent. You can record a video on any platform that has the VNC Server. The tools does not necessarily need to be active on the computer whose screen recorded.
vnc2swf is available for download in a Python and C versions(disadvantage) and it is released under the GNU General Public License.
Updated 04/12/2012
Other Linux Alternatives
Kazam Screencaster
Install Kazam in Ubuntu:
sudo add-apt-repository ppa:kazam-team/unstable-series
sudo apt-get update
sudo apt-get install kazam
Wink
Input formats: Capture screenshots from your PC, or use images in BMP/JPG/PNG/TIFF/GIF formats.
Output formats: Macromedia Flash, Standalone EXE, PDF, PostScript, HTML or any of the above image formats. Use Flash/html for the web, EXE for distributing to PC users and PDF for printable manuals
DemoRecoder – A screen recorder for Linux. Output format: Flash, AVI, MPEG 1, 2, 4; License: Commercial