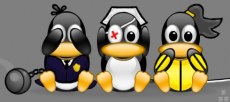 An open letter to Steve Ballmer, Microsoft's CEO by François Bancilhon, CEO of Mandriva. The story began this way; the Nigerian governmentdecided to get 17,000 Intel-powered classmate PCs with a customised Mandriva Linux as operative system for educational purposes. This was a very promising deal for Mandriva that unlike Ubuntu gets fewer of such request from local governments and was going to use this as a spring board for other better deals or "solution" projects in the third world.
It was a good deal until when the customer (Nigerian gov.) announced; "we shall pay for the Mandriva Software as agreed, but we shall replace it by Windows afterwards."
Who and what is behind this radical change of point of view by the Nigerian gov. could be a mystery but Mandriva's CEO has no doubt: Microsoft, and so a wounded François Bancilhon wrote this open letter to Steve Ballmer.