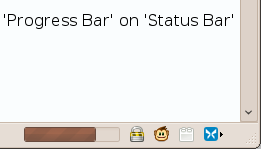 Current versions of the Firefox (Firefox 3.5.5/ Firefox 3.6 Beta) browser have the "Progress bar" located at the "Status Bar" but upcoming Firefox 3.7 will introduce a new feature that moves the "Progress bar" into each tab.
You can add this feature to your current Firefox by installing this feather-weight extension called Tab Progress Bar – it takes only 6 KB of disk space.
Whilst waiting for feature-packed Firefox 3.7 get a piece of that future right now.
Tab Progress Bar is a free download for all platforms. It works wherever Firefox does.

via [Lifehacker]