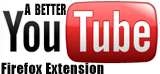 A better YouTube is a new Firefox extension that bundles up YouTube Greasemonkey scripts (allows you to change how your favourite pages behave and look) into a single and more convenient package. It help you to customize YouTube video( not only), for better viewing.
To install follow the famous three step process for installing Firefox plugins.
1. Get the new Firefox extension Better YouTube
2. If you have default security settings on your browser, you should be asked for a "permit" to use this extension. After adding this site to the list of Trusted sites, click Install Now.
3. Once successfully installed, you'll be asked to Restart Firefox.
For now Better YouTube does not have a toolbar icon like Gmail, so each time you have to customize your YouTube video you have to go the extensions Preferences dialog(Tools > Add-ons > Better YouTube). This makes it a little boring, nonetheless it is a try-able plugin.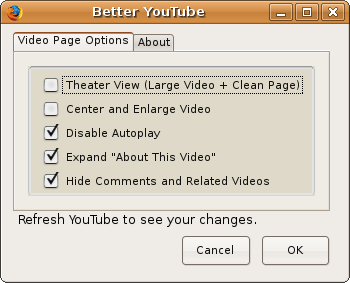 After installing Better YouTube, tweak around with some of it features, like turning off comments and related video or disable Autoplay. You must refresh your video page to see changes.
Better YouTube is released under the GNU/GPL License