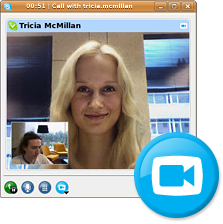 Now it is possible, up to now it was not, with Skype 2.0 for Linux, Linux people join the rest of the VoIP (Voice over IP) world with video too, so get your web cams ready cause you can now show who you really are whilst chatting. Skype finally added video chat to the Linux version. Its still a Beta but it is very welcomed. So quickly download and enjoy video chatting;
— Free video call with anyone in your contact list.
— Group chat with up to 100 people.
— Conference call with up to nine others.